kyrie irving is really a great basketball player in NBA. When lebron james first time left the Cleveland Cavaliers, Kyrie Irving was coming and he saved the team.
He want be a king in Cleveland Cavaliers and he really play hard. We can see all his training videos on Youtube, these years Kyrie Irving's shooting skills really improved a lot.
Of course LeBron James has been gaven Kyrie Irving big help after LeBron left the Cleveland Cavaliers, LeBron felt compunction so he wanna gave some compensation for Cleveland Cavaliers. That year Kyrie Irving just a newbie in NBA, LeBron helped him and made Irving to be a spuper star very quick.

So Irving trained much more harder just want to be a good leader of Cleveland Cavaliers, but when LeBron James came back, all changed.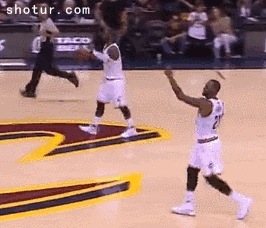 All great player want to be a King in his team, Irving is not except. But James came back and the Cleveland Cavaliers even did not inform Irving, then Irving felt he was not so important for the Cleveland Cavaliers. I really feel so strange the Cleveland Cavaliers' many deals, just as LeBron James first time left, the Cleveland Cavaliers did not want give up Delonte West, it made LeBron very angry and left, and then the Cleveland Cavaliers even insult LeBron. This time still as it, before LeBron came back, the Clevaland Cavaliers even not tell Irving, this kind of behaviour must hurt the player's heart.
Why the Cleveland Cavaliers always do not pay attention to the palyers' feeling?
Just as the Gig Pic show above. Irving dribbled the ball and announced the tactical, that was he should do, but what LeBron James did at the same time. It made Irving so angry but he can do nothing because the Boss of the Cleveland Cavaliers support LeBron. So if Irving want to be a legend of NBA, he must leave the Cleveland Cavaliers, because he can not get respect here.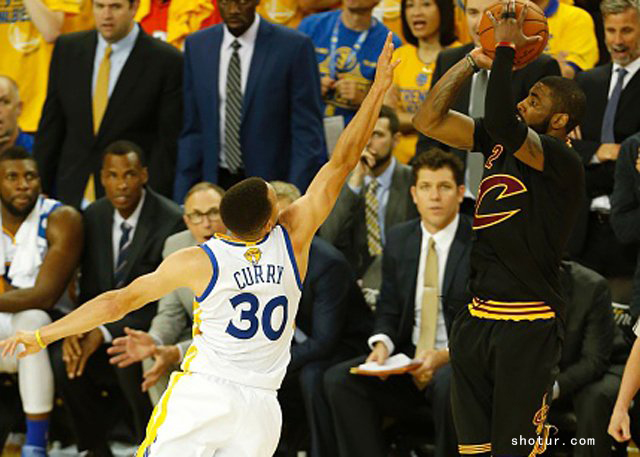 In fact Kyrie Irving's shooting skills really great just the same level as Stephen Curry.Irving's shooting with medium tough hand, it make his shot more stable than Curry's, especially clutch shots, he can jump much more higher and still can shoot very stable as standing on the ground, and he can also hang in the air much more time than soft hand shooting from.
So I really think that all clutch shots should made by Irving but not James, LeBron James indeed training hard for his shooting skills, but his basic skills are not fit for long shot, his right elbow really to high, when he hang in the air he will need much more force to shoot so he will really difficult to get a stable shooting hit rate. LeBron is not good at clutch shot but he always made but not Irving. So Irving should leave the Cleveland Cavaliers to find a new sky.
Kyrie Irving, God Bless You.