We all know that Isaiah Thomas is Allen Iverson's idol, many NBA players have an idol, and just because they imitate their idols' skills, they always easy to master the most advanced technology, because the super star all have some great and scientific skills.
Such as Michael Jordan, his idol is Julius Erving, Michael imitate his lay-up and dunking skills, so MJ is very difficult to defend in the first several years. tracy mcgrady's idol is Anfernee Hardaway, T-mac learn from Penny's low elbow 3-point shooting skills and evolved, then Tracy become a long shot master.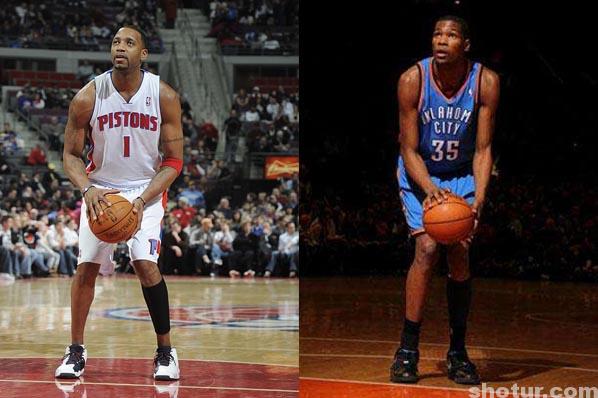 Kevin Durant's idol is Tracy McGrady, Kevin imitate Tracy's catch the ball from the left of his body, to make easy to be a elbow adduction shooting form, this lead him to be a good 3 point shooter.
No matter in which vocation, to imatate skills from the elite seniors is a very clever choice, it will be help you to quick success and master the advanced skills.
This post I will analyze 2 shots from Allen Iverson and Isaiah Thomas, you can find how similar between this two shots, and you will know the success can be copied with the scientific way.
Check the gif pic below: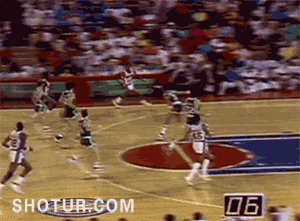 Isaiah Thomas dribbled to the defender and spin moved with left hand made the ball to the center of the two legs, did this can make the defender difficult to steal. Then the defender try to steal the ball with left hand, he must had a forward inertia, so Isaiah Thomas utilize the inertia and run to the back of the defender. Here really had a big space, then Isaiah Thomas jumped and tried to find a chance to shoot.
We can see here that Isaiah Thomas was not a none-stop shooting form player, he was just hang in th air and make force with the set-point in the air. When he was just start to drop down, he find a chance and released the ball with upward force, the ball put in with using glass.
Now lets check the 2nd gif pic about Allen Iverson below: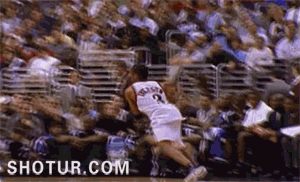 This attack is still utilizing the defender's inertia, when the defender ran forward, we ran to his back. Similar to Isaiah Thomas, Allen Iverson'shot is none-stop shooting form too. The two hands upward force lead him jump higher and he also hand in the air to make froce to make the set-point in right position.
And then, Allen Iverson released the ball made a clean shot.